1. Our Mission
Our mission is to push the agenda of the 4th Industrial Revolution (4IR) and practice global excellence and stature (GES) initiative at University of Johannesburg.
2. Our Vision
The objectives of the ALD Centre are, through directed and particularly multidisciplinary research and technological innovation, to implement the 4th Industrial Revolution (4IR) through ALD technologies, and in co-operation with principals from the private or public sectors in the field of industrial and scientific development, and thereby to contribute to the science excellence in South Africa.
3. Centre Structure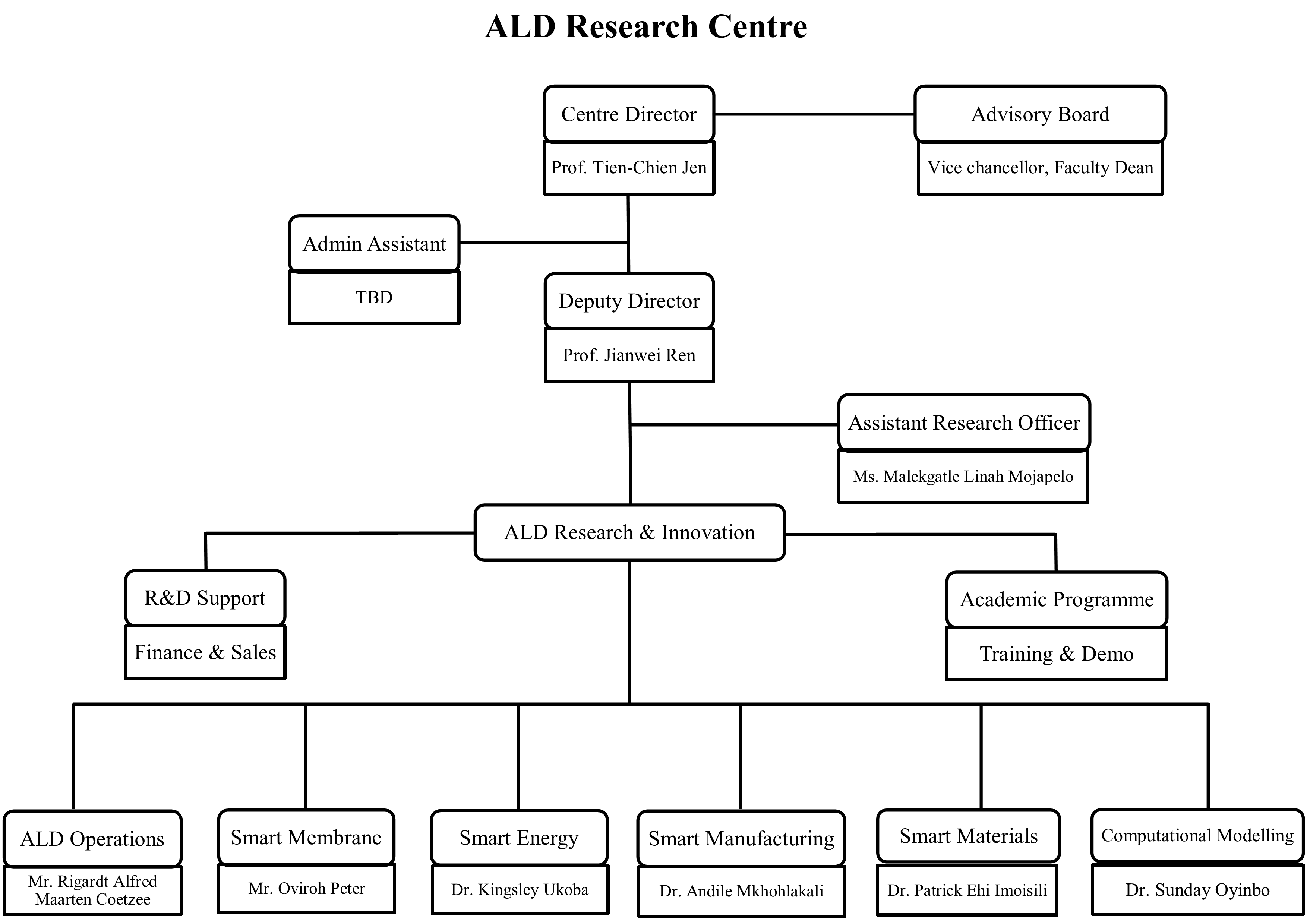 4. Facilities
Two PICOSUN™ R-200 and R200 Advanced ALD tools are housed within the ALD Centre cleanroom facility. The first tool is designed for basic ALD research with a wide variety of precursor chemicals. Single wafers/samples up to 8" diameter can be processed with both thermal and plasma-assisted ALD, targeting later upscaling of successful results to industrial-scale manufacturing. The second tool is for pilot-scale batch production for wafers/samples up to 6" diameter (max 15 pcs/batch). This tool is meant for upscaling the successful research results in the first tool into manufacturing, thus imitating real industrial conditions and requirements. As both the tools are from Picosun and similar in their basic operating principle, design, construction, hardware and software, this makes the tool use and maintenance easy, when there is no need to learn to handle two totally different systems.
The infrastructure and equipment at ALD CoC – 2021
| Facility Name | Model | Description |
| --- | --- | --- |
| ALD RC buildings | Secured building structures | Buildings, cleanrooms, gas cages, 3 X vacuum pumps, 3 X chillers, etc. |
| Clean Room | ISO-7 Standards | Provide an ultra-low number of particles and nearly vibration –free environment |
| ALD #1 | PICOSUN™ R-200 | Single wafers/samples up to 8" diameter can be processed. |
| ALD #2 | PICOSUN™ R200 Advanced | Pilot-scale batch production for wafers/samples up to 6" diameter (max 15 pcs/batch). |
| ALD Reactors | PICOSUN™ / Customized | PICOSUN™ standard and customized reactors to accommodate various needs from clients. |
| Glove Box | Mikrouna Glovebox -Super | Integrated Gas Purification System (one purifier) - PLC Controller and HMI. |
The ALD Research Centre buildings and surroundings
The cleanroom and ALD Reactors in ALD Research Centre
The envisioned glovebox integrated ALD Reactors in ALD Research Centre
5. Research Focus
The ALD Research Centre will adopt the advanced ALD practices and focus on the development of ALD research capacities in South Africa. Strategically, ALD RC will prioritize the research activities in both fundamental research and applied research:
Fundamental research
The Centre will focus on six specific research areas to provide UJ with a better understanding of the ALD technologies and important advances in the future 4IR world. The immediate research focus areas are exampled below:
ALD Operations: focus on the adoption of advanced ALD processes and design of the novel ALD reactors to provide the best supports.
Smart Energy: focus on ALD fabrication process of advanced catalysts for H2 & fuel cells technologies, membrane with improved performance, etc.
Smart Manufacturing: focus on the ALD smart machining, automation and Industrial Internet of things (IIOT) to demonstrate the concept of automation and IIOT for the future smart manufacturing in the 4IR world.
Smart Materials: focus on the advancements for ALD-MOFs, ALD-graphene and ALD-drugs delivery/discoveries.
Smart Membrane: focus on ALD-membrane with improved performance, etc.
Computational Modelling and Simulation: focus on the modelling and simulation to predicate the results from the research design to guide the ALD practices.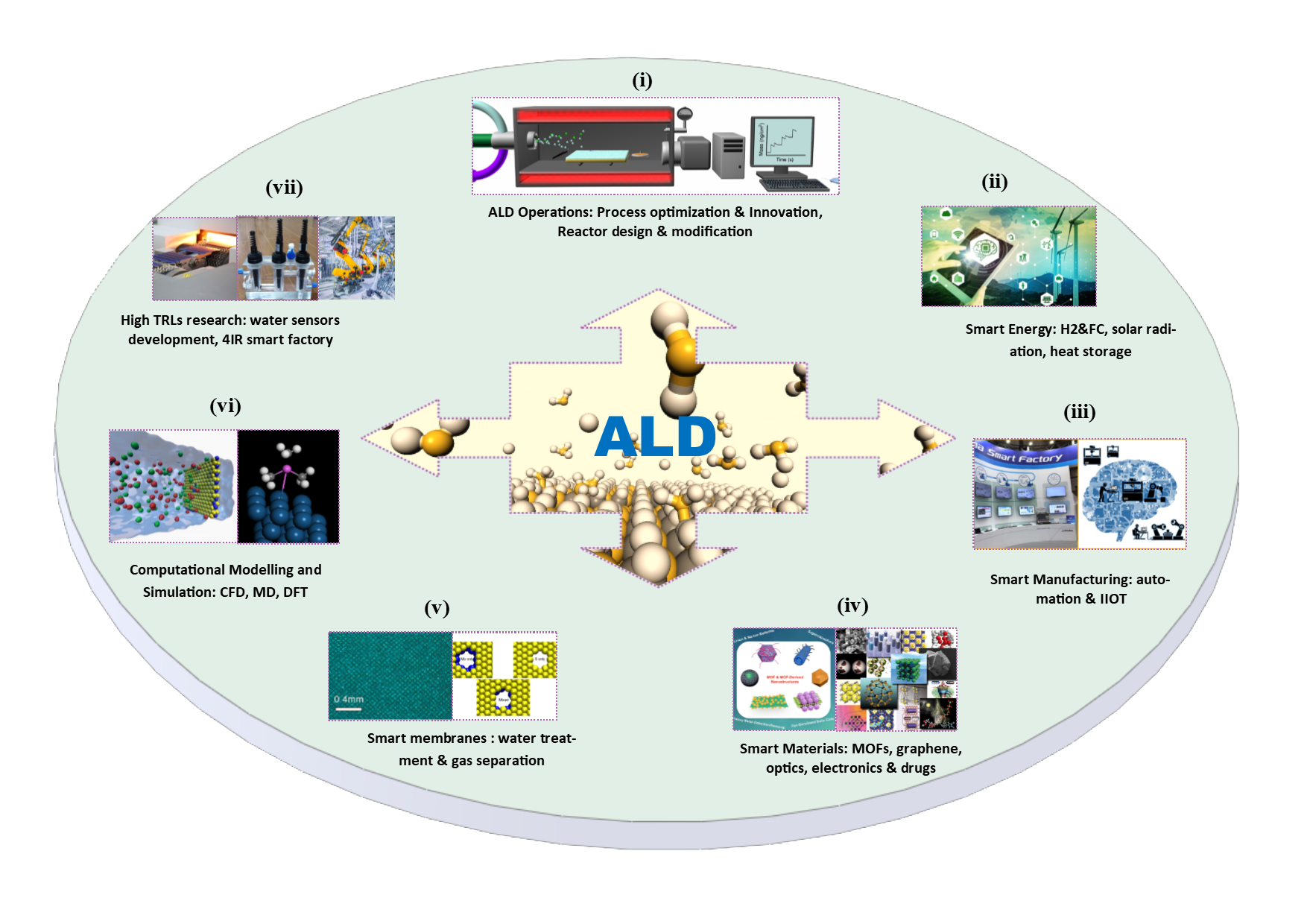 Applied research
The ALD Research Centre will work very closely with industries and local communities. The focus of research plans will be shaped towards to the market needs. It will also find the best practices to disseminate the proved ALD technologies into the real applications, and ensure UJ takes full advantages of new ALD strategies. Up to date, ALD Research Centre has initialized quite a number of applied research towards market needs, which can be exampled by the 4IR smart factory demo plant, development of cost-effective water sensors for water monitoring and analysis in South Africa, hydrogen generation project for industrial partner Hydrox Holdings.